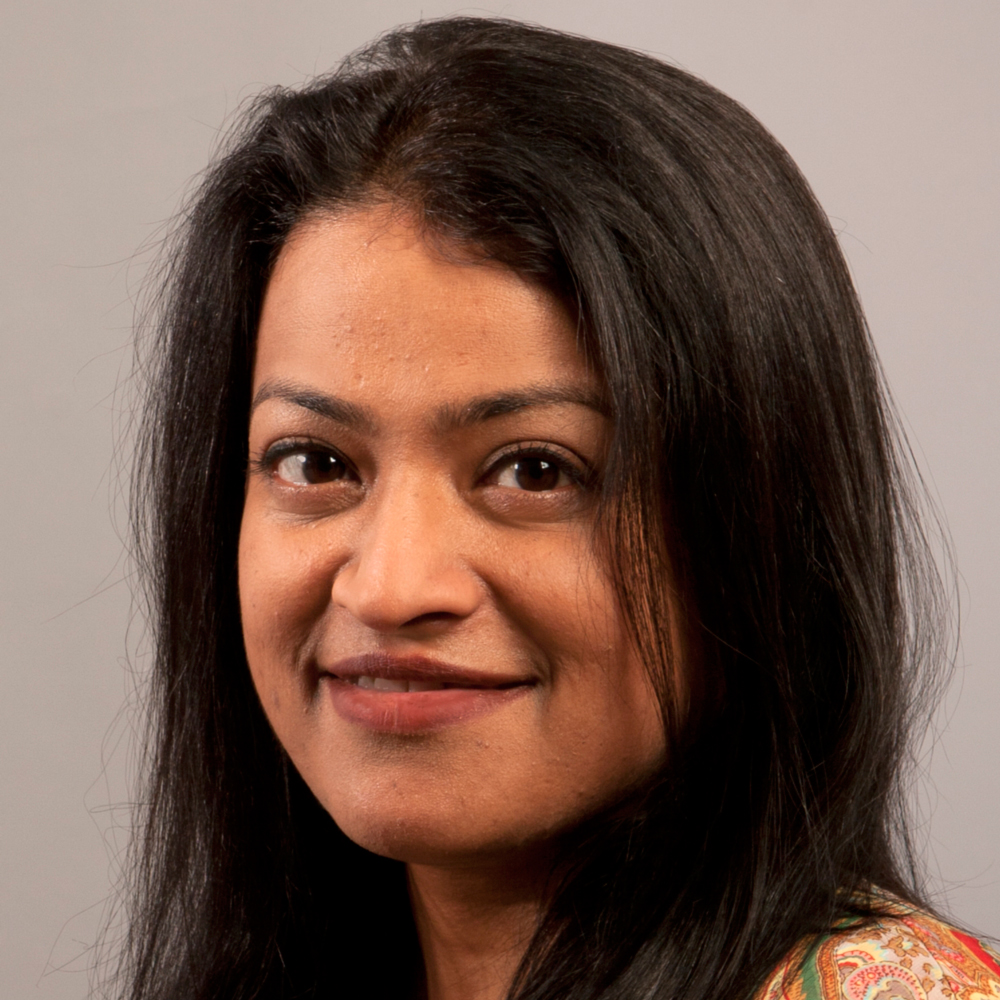 My parents' love of learning was what really pushed me towards a career in business. I grew up in Mumbai, where both my mother and father worked as scientists for Bhabha Atomic Research Centre, India's nuclear research agency. My mother is a nuclear chemist, which was highly unusual for an Indian woman during the sixties. She raised three girls, and got her PhD while we were still in school, before doing pioneering research and setting up pivotal public-private partnerships. My father is a botanist who discovered new species and has multiple plants named after him. My parents showed me how important it is to work hard, contribute and use my voice for the benefit of others. They inspired me to ignore constraints and always put my best foot forward.
My first master's degree in personal management helped shape my views on positively impacting others, and this is what led me to a career in management and HR. I studied at the Tata Institute of Social Sciences, a premier university in Mumbai. My programme was purpose-driven and focused on social change through the lens of human resources and personnel management. It taught me how to operate with purpose and look for ways to drive value in an integrated, optimal way.
It was never my intention to leave Mumbai for the United States. I joined global management consultancy Hewitt Associates after my masters at the Tata Institute of Social Sciences. I was selected for their global leadership programme where you work internationally and build global expertise. This led to my relocation to New York in 1999. It instantly felt like home, especially since I was raised in Mumbai – it has the same energy, big city camaraderie, and diversity of thought and people. It was a big transition, but one that opened up lots of new opportunities, allowing me to join a dynamic professional environment where I worked alongside truly inspiring leaders. I spent 12 years at Hewitt, eventually becoming one of the youngest women to make partner (after nine years in the company), shortly after turning 31.
I wanted to hone my management skills and become a better business leader, and I knew that the EMBA-Global Americas & Europe programme (EMBAG) was the way to do that. I started looking for programmes in 2005, and the EMBAG programme immediately stood out because of its connection with London Business School. LBS has a strong reputation, so having the chance to study on one of the School's programmes in partnership with Columbia Business School was a great opportunity. The subject matter – learning about leadership in the corporate management space – really appealed to me. This, combined with the truly global nature of the programme, made it an obvious choice.
I'd been working at Hewitt Associates in a management consulting role for eight years, and after the EMBAG programme, I began to focus more on business management. It was this diversification of skills that also led to my current role at IBM. As the lead for our global HR reinvention services, I work on the intersection of people and technology, which includes everything from cognitive blind spot capabilities to processes that transcend HR as business elements – with technology playing a key role. Having the opportunity to work with a global team while challenging and reinventing the way HR works makes for an incredibly interesting and rewarding role.
The EMBAG programme definitely helped me develop a more global perspective – a direct result of my exposure to such a diverse cohort. This is essential in my current role as Global Leader of HR Reinvention at IBM – we have 126 offices in 96 countries so the ability to interact with people from different backgrounds is crucial.
The programme allows people to balance their personal commitments and make the right choices to suit their lifestyle. It also fit in with the complexity of my personal situation at the time: I had a young child, a full-time job, a daily commute and studies on top of everything else. It was a lot to take on but I was lucky enough to have the support of my family and Hewitt Associates throughout the process. When you're young, you don't know what you're capable of. Studying on the EMBAG programme really helped me realise how much I need to and can learn.
I was surprised and humbled to be named one of 2020's Top 100 HR Influencers. It's great to receive such recognition within an industry that I've been part of for so long and I think it's down to my work around the intersection of technology and HR. I've frequently written about and been involved in discussions around the use of blockchain, cognitive tech and AI, along with the future of work and leadership. As well as being featured in Forbes magazine, I'm a frequent speaker on people and talent-related topics.
Talent and people have become ever more important as a result of the pandemic. With virtual working now standard practice across most sectors, the ability to connect with your employees has never been more essential. At IBM, we're used to working virtually, but the advancement of technology and changing business models has put many of my clients under immense pressure to respond to business-wide disruption. As a result, we're working hard to find solutions to help them become more agile through technology. This in turn optimises costs and ensures business outcomes are achieved regardless of where and how people are working.
If you're looking at an MBA programme, the quality of educators and school attributes are important, but you should also take a look at the potential cohort itself. The backgrounds, level of experience and multicultural mix all contribute a great deal to the quality of your own learning, the type of experience you have and what you'll get out of it. The EMBAG programme is outstanding in this regard, and provides a highly accomplished, inspiring peer group – and, in my case, lifelong friends.